Spotlight on You
We're proud of our members and want to celebrate your artistic accomplishments and opportunities.
Have you won an award, are you teaching a workshop, or having a show? Perhaps you've been accepted into a juried exhibition or featured in a publication.
If so, let us know and we'll share it on our Member News page or on Facebook and Instagram.
Member News
tamiamoroso
The 2022 Members Open Online Exhibition included the first-ever Emerging Artist category.  According to Janet Schwartz, a long-time art instructor and Vice President of PPSCC, "During my time as an art instructor, I have had the opportunity to see many of my students really grow in their skills and their confidence.  And so, I've been encouraging them to get involved and enter shows and put themselves out there. I am thrilled that members now have the opportunity to do so now, with the addition of an Emerging Artist category in this year's Member Show. I am really proud of my students that have entered—and everyone else that may have taken this step for the first time.  Submitting your work for an exhibit takes courage. Congratulations!"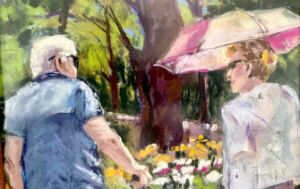 Jakki Kouffman, the Juror of Awards, selected paintings for 1st, 2nd, and 3rd place, as well as two Honorable Mentions, from 48 entries.  Mary Kozlowski's painting "Old Friends" was awarded first place.
Mary relayed, "My painting 'Old Friends' was inspired by a scene I encountered in the park of two older women enjoying each other's company on a beautiful spring day.  Watching them interact put a smile on my face and I thought how nice to have a dear friend to talk with on such a lovely day. I knew I had to capture that moment and how better to do that with a pastel painting. Before the pandemic, I had used pastels only minimally, but during lock down I started painting regularly. I love experimenting with the interaction between colors and values of both the pastels and the papers."