FPO 2023 – Best in Show: Sarah Miquelle, "Phragmites"
2023 Members Open Gallery is Live!

The Annual Meeting took place on Saturday November 11 via Zoom. Thank you to everyone who joined us.
It was followed by the Awards presentation, by our Juror of Awards, Jane Robbins. Jane won Best in Show in our 2022 Members Open Show. She presented her comments on the winning artworks! Including the awards for our Emerging Artists category, a great opportunity for new artists to show their work and be recognized!
We were delighted to have Jane give an Artists Talk presentation, walking us through her work and process. If you would like to see the recording click the button below.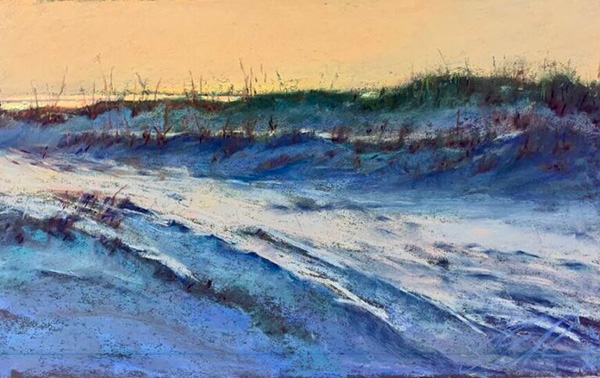 2022 Best of Show winner
Jane E Robbins, "The Glint"
To create a community of pastel artists, to set standards of excellence through education and to encourage and nurture artists in their professional growth. Further, we strive to educate the public and gallery owners of the permanence, versatility and value of the medium and to offer opportunities for our members to participate in juried shows and exhibitions devoted to pastels. We hope to establish pastel as a separate category in art exhibitions.
It's easy to join! Members of all levels are welcome. New, experienced and professional pastel artists as well as interested supporters may join. If you're interested in pastel painting, your PPSCC membership will allow you to meet fellow artists, share ideas, learn new things, and even exhibit your work.
Invitations to exhibitions and receptions

Invitations to affordable "Members Only" Workshops

Entry in our Annual Members Show

Member discounts on PPSCC courses and workshops

Eligibility to be juried into Signature Membership

E-newsletter, Pastelink and email event updates

Eligibility to link your website from the PPSCC website

Become a Signature Member and have your work on this website and in our Signature Member Exhibition, held every two years.